Winter in Morocco offers a welcome break from the heat of summer in Africa. Temperatures in the cities are far more comfortable for days spent wandering the medinas, and exploring the alleys. In the mountains temperatures drop far enough that the peaks become blanketed in snow.
Although the days are still comfortably warm, the setting sun tends to bring a drop in temperature. It is the "rainy season", but being that Morocco is mostly desert, it is still significantly less rainy than other parts of the world. Here are some weather averages from previous years:
Moroccan Weather and winter tempreratures
Marrakesh 20° / 7°
Casablanca 19° / 10°
Fez 18° / 6°
Rabat 18° / 9°
Essaouira 20° / 13°
Sidi Kaouki 20° / 13°
Imlil 12°/-2°
Why Morocco in winter ?
Winter in Morocco provides a break from the crowds and hot weather in the cities that can be typical during the rest of the year. Consistent waves from the N/NW provide perfect conditions for surfers looking to explore new breaks and snow in the mountains give opportunity for mountaineering and ski touring without the crowds typical of Europe.
If you want to ski one day and ride camels through the desert the next, Morocco in the winter is the spot for you.
What to do in Morocco in December ?
December offers a wide variety of activities in Morocco. As temperatures drop, and precipitation increases, the Atlas mountains get covered in a blanket of snow, offering a perfect playground for confident skiers and winter climbers alike. There are many options to book multi-day tours skiing on Mount Toubkal, the highest peak in northern Africa.
If you'd rather skip the snow you can join surfers from all over in enjoying the nearly constant swell coming in off the Atlantic, creating beautiful waves all along the coast. The options are endless, if you enjoy long beach breaks consider surfing Sidi Kaouki, a small town/beach 30km from the larger town of Essaouira. Imsouane, another village down the coast boasts Africa's longest right hand break. No matter your preference or skill level, from those looking to surf for the first time to seasoned experts, the winter swells in Morocco will have the wave for you.
If you're more interested in exploring the cities, december is the perfect time. Outside of the peak tourist season you're likely to find lower prices at the riads and smaller crowds in the museums. December also brings more comfortable temperatures for walking the streets of Marrakech, without sweating through your clothes.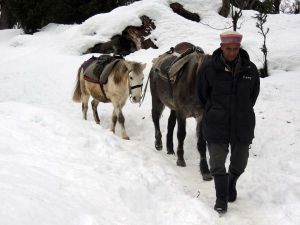 It can be the perfect time to visit one of Marrakech's many museums. After days of wandering, visiting a hammam, a traditional bathhouse, is an awesome way to unwind. These can range from grand and luxurious spas, to the far more modest neighbourhood hammam that is likely to be filled mostly with locals. If you're coming to morocco to shop in Rabat or any of the other larger centers, winter is the perfect time as smaller crowds mean prices in the souks(markets) tend to drop. Smaller crowds also mean the impressive Kasbahs (palaces) and mausoleums will be yours to explore in peace and quiet.
December in Morocco also includes cultural festivals such as the Tan Tan Moussem, a traditional gathering of tribes to swap stories, race camels and dance. December is also the time of the Marrakech International Film Festival, that screens films from all over Morocco in Jemaa el Fna, the central square of Marrakech. The end of the month brings a celebration familiar to most, New Years Eve, however in Morocco instead of dressing up in gold and counting down with champagne, it is tradition to start the new year in the desert under the stars.
Whatever you decide to do during the day, evenings are best spent enjoying delicious tangier and moroccan soups, paired with a warm, sweet cup of mint tea.
If you're not sure what you want to do, or if you're looking to get the best of everything, hiring a local guide is the best and easiest way to make sure you're not missing anything on your Moroccan adventure.
Best place to visit in Morocco in December
The best places to visit in Morocco in December depend entirely on what it is you're interested in doing.
If the next big ski adventure is what you're after, Imlil, at the foot of Mt Toubkal is surely the place to go. It is roughly an hour and a half drive from Marrakech. Some ski tours meet in Marrakech and transport from there will be included, but if not the best option is to take a "grand taxi" (big taxi). If you wish to hire a private taxi it will cost you around 350DH (or 35 euros). A cheaper alternative is to find a space in a shared grand taxi for about 50DH, these shared taxis will leave as soon as they are full, so wait times can vary greatly.
The winter swells can be enjoyed all along the Atlantic coast. Essaouira, Taghazout, Imsouane and Sidi Kaouki are just some of the many world class surf destinations Morocco has to offer. Buses will take you from Marrakech to the more popular destinations, grand taxis and hostel transport can take you from there. You also have the option to fly into Essaouira and Agadir.
Marrakech, Casablanca, Rabat and Fez are some of the larger cultural centers of Morocco. All have major airports for you to fly into and trains and busses that run between them.
Booking a tour can help you move smoothly from destination to destination, ensuring you see the highlights of each, as well as the hidden gems along the way.