About Mount Toubkal :
Mount Toubkal, standing at 4127m (13671ft) tall, the highest sum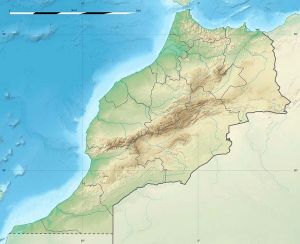 mit in the Atlas mountain range, and all of northern Africa. The mountain is carved out of rock that was formed in the cretaceous and jurassic periods, roughly 100 million years ago. The mountain and surrounding areas are a part of the Toubkal National Park, formed in 1942 it is the first national park in Morocco. The climate is very dry, but the local Berber people have made agricultural advances that allow for the growth of apple, walnut and cherry trees in the Imlil valley.
How many days for a trek ?
You can take many hikes with various times to reach the summit of Mount Toubkal. Atlas Panorama offers 2 to 6 day packages that depart from Marrakech and include summiting Mount Toubkal. The shortest and most popular is a 2 day trek starting im Imlil. On the first day you will hike roughly 5 hours to the refuge where you will spend the night. On the second day you will reach the summit & then return down the path. Atlas Panorama's longer tours also include trekking through nearby valleys and villages. With this trek, it is best to do it over a couple of days to allow yourself time to acclimatize.
Best time for hiking at Mount Toubkal
The best time to climb Mt Toubkal is in the spring (April or May) or fall (September or October). It will be warm during the day but cool at night. Climbing in the summer brings very hot days, but still cold nights. Climbing in the winter can be done, but there will be snow, so the experience will be more extreme.
Good to know
Although this is the highest peak in northern africa, the ascent is non-technical and does not require ropes. There is a small scramble over boulders towards the top, but is doable by anyone in decent physical condition. The difficulty of the hike can vary depending on your fitness level, it is not what we would describe as easy, but if you are in good physical condition, it is do-able.
At such elevations, altitude sickness can be a concern. It is wise to take a couple of days to acclimatize as opposed to going for the summit on the day of your arrival. Being at altitude also means you may lose appatite, but it is important to eat regardless. Drinking lots of water can help accelerate acclimatization. There are also preventative medications you can take if you are concerned.
Tours
Our tours include all your meals while you are trekking, as well as water, coffee and tea. They also include mules, who will carry gear and more importantly, water, as we trek through the gorgeous mountains.
The language in this region is quite variable. Many of its inhabitants speak a local Berber dialect, most also speak Arabic, some will speak french, and maybe even english as well. Riad Atlas Panorama's guides speak english, but it can still be helpful to know a few phrases and greetings in some of these other languages
Thing to Pack for a Toubkal Trek :
Light clothes for the day hiking. A light long sleeves and long pants are ideal hiking attire as they will help to keep the sun off.
Good hiking shoes are a must. The trail is long and can be rough and uneven at times, good foot support will make the 2 days of hiking far more enjoyable
Warm layers, for the night and the early morning start on the second day. A jacket, long pants, gloves, and a warm hat are recommended.
Sun protection. The sun here is strong. It is wise to bring sunscreen, a sun hat, and polarized sunglasses, as much of the hike is very exposed.
A Buff or a Scarf. This will help protect your face from the wind as well as help you to keep warm the morning of the summit.
Lip balm & moisturizer. This is one that is easily forgotten, but when coming to areas drier than our skin is used to, lip balm and moisturizer are an essential part of staying comfortable
Trekking poles (optional). Some of the terrain is fairly uneven, trekking poles can be helpful for navigating these parts
Ice axe and crampons (november-april). These will be necessary for navigating winter conditions on the mountain
A good Camera (optional). The views from the top are incredible.
Your favourite snacks (optional). The hike, although not exceptionally long is at a very high altitude, which can make it very tiring. Although your guide will have some nuts and dates for sustenance, a little bit of your favourite chocolate or candy can come in handy. Experience has shown that having chocolate or your favourite snack, on hand can be a big morale booster when the going gets tough.
A sleeping bag (optional). Although the refuge offers blankets, some prefer to have their own sleeping bag as well
Portable Power Bank (optional). If you spend a lot of time on your favourite device and want to charge it overnight, a portable power bank may be necessary, as the refuge near the summit may not have consistent power.