Day 1: Marrakech – Ait Ben Haddou – Kalaat M ́Gouna/ Rose Valley
Day 2: 1⁄2 walk in Rose Valley + program in Rose Valley
Day 3: Kalaat M ́Gouna – Todgha Gorge – Amellagou
Day 4: Amellagou – Errachidia – Fes
Day 1: Marrakech – Ait Ben Haddou – Kalaat M ́Gouna/ Rose Valley
At 9.00 a.m. your driver and guide meet you in your hotel in Marrakech and together you start the trip to the South. You pass the fruitful Valley of Ourika and climb the road to the pass Tiz n ́Tichka, with 2,260 m the
highest pass in Morocco. Right after Tichka the countryside and architecture change completely – you are in the Moroccan South! Now you leave the main road and follow the ancient caravan path through the unique landscape of the Ounila valley. You pass many traditional Berber villages where houses are still built just from stones or clay and around lunchtime arrive in Ait Ben Haddou, an old fortress (kasbah) which has been listed as a UNESCO sight and become one of the symbols of Morocco. After climbing the top of the kasbah you will enjoy lunch in a nice guesthouse with a view over the river.
In afternoon continuation to the Rose Valley – here in a small Berber village at the Mgoun river, far away from any mass tourism you will spend the next 2 nights. Be ready for a tasty food prepared exclusively from local products and lovely accommodation in a restored old kasbah. The owners work closely with the village community and if you are interested, they will be happy to share a lot from Berber culture with you.
Driving time: 6 h
Day 2: One day trekking in Rose Valley
In the morning you will go on a hike in the area of M ́Goun river and mountains around. You will have opportunity to visit a really authentic Berber villages, hike mountains and enjoy beautiful views.
For the lunch you will come back to the kasbah.
You don ́t need to be scared that your friend will be bored in the meantime. Staying in the really nice
kasbah of Hayat and Karim is an experience on its own. She can relax at the roof terrace or at the fire place in a nicely furnished saloon. Hayat and Karim are lovely hosts and will make sure that he feels like at home.
Once you are back with you can visit a local family and have a tea with them, visit a rose manufacture or the village of Bou Tharar and the oldest kasbah in the area.
Driving time: 1,5 h
Walking time: 2-3 h (or as you feel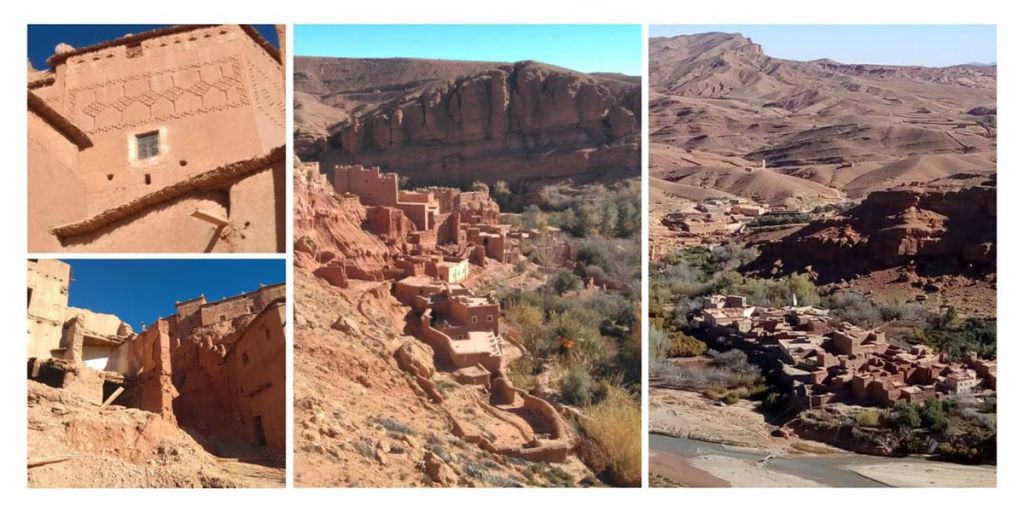 Day 3: Kalaat M ́Gouna – Todgha Gorge – Amellagou
Saying goodbye to the Rose Valley today you continue the trip on a off-offroad piste through the mountains and have a tee with nomads. Around lunchtime you reach gorge Todgha whose walls are up to 400 meter high. Your lunch is prepared in a guesthouse in the middle of an ancient Berber village. You will appreciate the colourful interior, quiet atmosphere as well as delicious meal prepared by the owner ́s wife In afternoon you will drive throgh the whole Todgha Gorge to Tamtatoucht Plateau. You will see many mountain landscapes and picturesque villages, like Ait Hani and mainly Assoul, with its apple trees gardens, its Kasbah and its Zaouïa.
Driving time: 5-6 h
Day 4: Amellagou – Errachidia – Midelt – Fes
After breakfast you start your trip to Fes.
Lunch in Midelt, a small market town at the border between the Middle Atlas and High Atlas. Also you will make a short stop in the forests of Azrou, a region known for the cedar forests and appearance of magots, or Barbary apes.
Driving time: 7 – 8 h
Included:
Who will take care of you during the tour?
✓ 1⁄2 hike in the Rose Valley
✓ Walk in the area of Todgha Gorge
✓ Visit of UNESCO kasbah Ait Ben Haddou
✓ Licenced English-speaking mountain guide who will accompany you in days (1-4)
✓ Private 4×4 car suitable to drive off-road with driver (1-4)
Where will you sleep?
✓ 2x guesthouse in restored kasbah in Rose Valley
✓ 1x auberge in Amellagou
Accommodation in double/ triple rooms (separate beds can be arranged)
What will you eat?
✓ 3x breakfast
✓ 4x lunch in restaurant or guesthouse (usually salad/ starter, vegetable or meat tajine/ couscous/ grilled
meat etc., fruit, bread)
✓ 3x dinner (usually soup/ starter, meat tajine/ couscous/ grilled meat etc, fruit, tea)
Vegetarian option available, please let us know.
Not included:
What is not included during your trip
International flights
✓ Bottled water/ soft drinks/ alcohol drinks
✓ Travel insurance
✓ Small tip for the local guides and driver (only if you are happy with the services. We mention it because
tipping is a very important part of Moroccan culture)